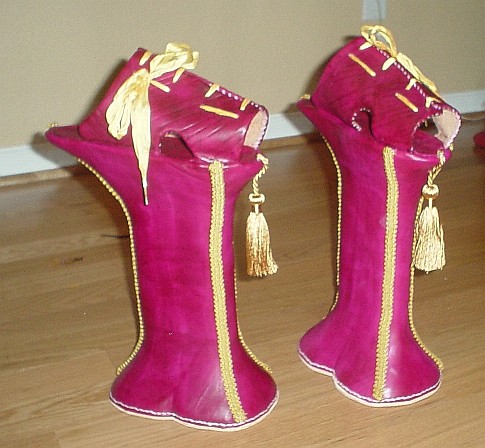 The current craze for big, brash shoes is making waves in the fashion world.  With the advent of five-or six-inch heels decorated with everything from pearls to pistols, the shoe has come back into its proper role as the "it" accessory.  The demand for deliciously outlandish shoes is even overpowering the economic crisis, as shoe sales, especially for gladiator shoes, are strong.  Still, this trend only represents the new wave of a larger ocean of towering, extravagant shoes.   Shoe history is merely repeating itself; impossibly tall, unusual shoes have enchanted divas for centuries.
As a lifelong shoe fetishist, I'm fascinated to learn how high heels and platforms have appeared throughout history.  As Gioia Dilberto writes for the Huffington Post, sky-high shoes are a "style throwback to the 17th century and Louis XIV."  Dilberto explains,
The Sun King started wearing high heels as a way to show off his long, curvy legs, sparking a craving at Versailles for similar footwear. The King's shoes sometimes soared to five inches and were often decorated with miniature battle scenes. He particularly loved red heels, which became a symbol of his power, and he forbade anyone but the highest nobles to wear them.
If he were around today, I'm betting Louis would be as gaga for over-the-top footwear as today's celebrities are.  As the red carpets of recent awards ceremonies have shown, celebrities are clamoring for higher and higher heels.  Designers are being very obliging–Christian Leboutin will soon release an eight-inch heel, for instance.  One of the most sought-after "it" shoes is Louis Vitton's Spicy (shown at right), which has been selling out across the country, despite an astronomical price: from $1,300 to $3,000.  Only those with gobs of money to throw around can afford these tribal lovelies, which could be part of their attraction.
Then again, extreme shoes have always been a sign of wealth.  In Venice in the Quatrocento (the 1400s), Venetian Courtesans were probably the only ones in town who could afford chopines, which represented the literal and metaphorical height of footwear fashion at the time–some extant examples are twenty inches high!  (Take that, Mr. Leboutin.)  Originally used as an overshoe to protect the wearer from street mud, chopines soon rose to meet the fashion demands of the divas of the day.  Even then, heel height seemed intertwined with economics– the higher your shoe, the higher your rank. (Some things never change–heel height often rises with economic woes, as women attempt to outgrow their money woes.)
Incredibly, some enthusiasts are still building chopines today.  Using blocks of poplar wood, leather, and a nice tight shoemaker's stitch, Francis Classe built the eye-popping pair of chopines shown above. Just like the celebrities who we see sporting super-high heels today, Mr. Classe says that "the extra tall chopines would really only have been worn by ladies of great means; any kind of economic downturns probably wouldn't have impacted [them] all that much."
The celebrities may be able to afford to drop two of my mortgage payments on a pair of shoes, but I'll opt for more reasonable Shoefly prices instead. I prefer wedges to heels, especially when I know I'll be up and down all day.  Apepazza's Naida fits the bill nicely.  The ruby faux crocodile accent and fun lines make it my favorite "accent shoe" of the summer.
Top photo used with permission from Francis Classe.  To learn more about how to build chopines, visit Mr. Classe's site. Photo of Vitton's Spicy shoe via LuxuryLaunches.com.
TrackBack
TrackBack URL for this entry:
http://www.shoeflyer.com/2009/06/the-height-of-fashion-then-and-now-chopines/trackback/
Listed below are links to weblogs that reference this post :
Recent Posts
Tags: Apepazza, chopines, Christian Leboutin, Louis Vitton, Naida, platform shoes, shoes & wealth
3 Responses to "The Height of Fashion Then and Now: Chopines"
The Height of Fashion Then and Now: Chopines « acc3ss.info Says:
June 17th, 2009 at 9:23 am

[...] Excerpt from: The Height of Fashion Then and Now: Chopines [...]

Posts about Huffington Post as of June 17, 2009 » The Daily Parr Says:
June 17th, 2009 at 10:37 am

[...] must really like strong women.'" I remember, now, receiving an email from Sally The Height of Fashion Then and Now: Chopines – shoeflyer.com 06/17/2009 The current craze for big, brash shoes is making waves in the fashion [...]

Shoe Smitten » Blog Archive » Word of the Week: Chopines Says:
June 22nd, 2009 at 9:23 pm

[...] was reading Shoefllyer yesterday and stumbled upon a little history lesson about the first platform shoes: chopines.  [...]
Comments
Post a comment