Historically speaking, March 5th is a great day to wear army boots or blue suede shoes, since on this date in 1960, Elvis Presley was discharged from the army after finishing his two-year stint in Germany.  The King wasn't exactly roughing it in the army– he lived off-base, surrounded by family and friends.  Still, he completed his duty at a pivotal point in his career, spending two years away from a nation of swooning teenage girls that couldn't get enough of the 20-something heart-throb from Mississippi.  So on this day when Elvis traded in his army-issue Big Boots for his old Blue Suede Shoes, Shoeflyer is featuring blue suede shoes. And since it's Thursday, why not make it a baker's dozen?
So, with Spring '09 trends in mind, I'm on the lookout for anything blue and/or a little furry.
1. Bonnie by Shoes for Lovely People
2. Compliments of the Chef by Seychelles
3.Gianna Meliani Suede Cut-Out Pumps
4. Zinc Polk in Blue Argyle/Black
5. Light blue Kayle snow boots by Kamik
6. Classic Tall Ugg Boot – Blue
7. Vans No Skool 2 in polka/white/blue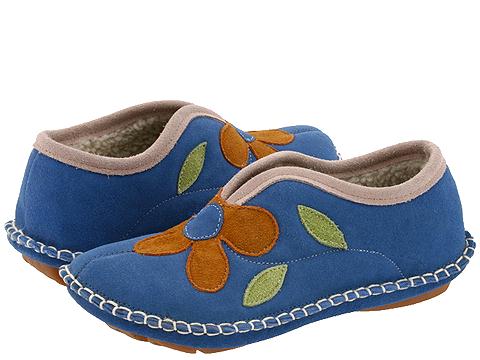 10. Acorn Boa Bootie in Blue Turquoise
11. Blue Suede wedge ankle boot by Topshop
12. Suede Ankle Boots With Beveled Heel by Pierre Hardy
13. Elvis Presley Blue Suede Shoes Salt and Pepper Shaker Set… they may not be furry, but they're just too appropriate (and kitch!) not to include here:
Elvis' taste lives on, apparently… light blue suede shooties trod the catwalks of New York's Fashion Week.
TrackBack
TrackBack URL for this entry:
http://www.shoeflyer.com/2009/03/thirteen-thursday-13-blue-andor-suede-shoes/trackback/
Listed below are links to weblogs that reference this post :
Recent Posts
Tags: army, Elvis Presley, Germany, Gianna Meliani Suede, Mississippi, Nike, Pierre Hardy, Seychelles, Vans
Comments
Post a comment